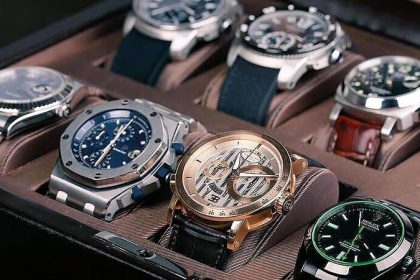 Not all watches are created equal. In fact, some are in a league of their own. Combining impressive craftsmanship with a stylish aesthetic, luxury watches are so much more than simple accessories; they're wearable works of art. As such, it's no wonder why names like Rolex stir a certain feeling in not only watch enthusiasts but just about everyone. So, if you're looking for a timepiece that'll provide fashion and function for years to come, you can't go past the world's most lavish watch labels. Unbeatable for their sophisticated designs and precise manufacturing, these names ooze prestige and magnificence. Here, we've rounded up the best of the bunch. These are the top luxury watch brands you need to know.
1. Audemars Piguet
Founded in 1875 by Jules-Louis Audemars and Edward-Auguste Piguet, Audemars Piguet produces 36,000 of their prestigious timepieces a year. In fact, Tiffany & Co and Bulgari use this brand's movements. This luxury watch brand is also noted for creating the first steel luxury sports watch. This was dubbed the Royal Oak in 1972. Later, in 1993, the brand created the first oversized watch named the Royal Oak Offshore.
2. Vacheron Constantin
One of the oldest manufacturers of luxury watches, Vacheron Constantin, was founded by Jean-Marc Vacheron in 1755, in Geneva Switzerland. This brand of fine watches is a member of the Richemont Group. Vacheron Constantin's watches truly reflect their heritage. With precise detailing alongside traditional shapes and styling, these watches are unlike others. Napoleon Bonaparte is said to have worn their watches, along with other noted historical figures like Harry Truman and Pope Pius IX.
3. Patek Philippe
The Swiss brand, Patek Phillipe & Co was founded in 1851. The watches boast complicated mechanics and traditional styling and have been worn by royalty throughout history. Inspiringly classic and unique with their distinctive signature style, this brand keeps their marketing consistent with their promotional campaigns.
4. Chopard
Known for their Swiss watches, Chopard is not only known for their unique timepieces, but also for their jewellery. Founded in 1860 by Louis-Ulysse Chopard, a Swiss watchmaker, Chopard is identifiable for its classic look and great detailing. With state-of-the-art technological influence and well-established craftsmanship, Chopard is coveted because of its sophisticated models. With a clear design aesthetic and innovative development, Chopard has grown into a worldwide luxury brand.
5. Rolex
One of, if not the most identifiable luxury watch brands, Rolex is internationally acclaimed and coveted by society. Prized for its timeless form and function, Rolex watches are prevalent in popular culture. Its British origins are still represented in this brand's consistently classic designs. Rolex is internationally recognized and has been featured on Forbes' list of world's most powerful global brands. Rolex is also the largest single luxury watch brand, making 2,000 watches per day.
6. Breitling
Founded in 1884, luxury watch brand Breitling is known for its watches' excellent durability and precision. The watches are inspired by aviation, with many of the watches including features used by fighter pilots. The brand also designed watches specifically constructed for divers, lending to its versatility and innovation in watch production.
7. Omega
Another influential Swiss luxury watch brand, Omega has earned its stripes with its historical work as well as contemporary status as a leading luxury brand for timepieces. In fact, Britain's Royal Flying Corps elected Omega watches as the official timekeepers for combat units in 1917. The American army shortly followed suit in 1918.
8. Bremont
Inspired by Aviation, the Bremont Watch Company is based in Britain but have expanded their brand and production across the world. Since 2002, founding brothers, Nick and Giles English have upheld the inspiration that made their watches famous, shown through their watches' aircraft themed and mechanically focused models. With classic curves and proportionate faces, these watches are true representations of this British company's image and branding.
9. TAG Heuer
This Swiss watch manufacturing company also produces eyewear, mobile phones and accessories.  The TAG Heuer name is an abbreviation of 'Techniques d'Avant Garde' and Heur refers to the founder, Edouard Heuer. While the watches have evolved over the decades, they still possess a persisting sports-like look. With a range of chronographs and memorable timepieces available, this brand boasts a technological appeal and premium functionality.
10. Hublot
Although Hublot may be significantly younger than a lot of other luxury watch labels, the brand is by no means less impressive. In fact, since beginning in 1980, Hublot has risen to become one of the most prestigious names in the industry. With award-winning collections already under its belt, the label looks set to continue with its success.