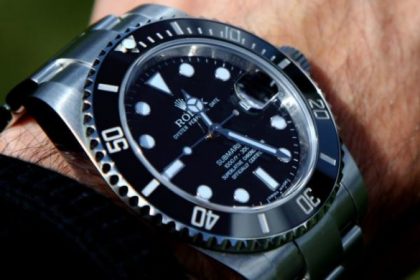 Rolex really isn't like any other watch brand. In fact, the privately held, independently run entity isn't like most other companies. I can say this now with a lot more clarity than most people because I was there. Rolex rarely allows anyone into its hallowed halls, but I was invited to visit their four manufacture locations in Switzerland and experience first-hand how Rolex makes their famous watches.
Rolex is a universe of its own: respected; admired; valued; and known across the globe. Sometimes I sit back and think about all that Rolex is and does and find it hard to believe that at the end of the day, they just make watches. Rolex does just make watches and their timepieces have taken on a role beyond that of mere timekeeper. Having said that, the reason a "Rolex is a Rolex" is because they are good watches and tell pretty good time. It's taken me over a decade to fully appreciate the brand, and it will probably take longer before I learn everything I'd like to know about them.
The purpose of this article isn't to give you a totally inside look at Rolex. That isn't possible because as of now there is a strict "no photography" policy at Rolex. There is a very real mystique behind the manufacture because they are relatively closed and their operations aren't public. The brand takes the concept of Swiss discreetness to a new level, and in a lot of ways that is good for them. So since we can't show you what we saw, I'd like to share with you some interesting facts that every Rolex and watch lover should know.
1. ROLEX USES AN EXPENSIVE AND DIFFICULT-TO-MACHINE STEEL BECAUSE IT LOOKS BETTER
Many watch lovers are familiar with the fact that Rolex uses a type of steel that no one else uses. Stainless steel is not all the same. Steel comes in various types and grades… and most steel watches are made from a type of stainless steel called 316L. Today, all the steel in Rolex watches is made from 904L steel, and as far as we know, pretty much no one else does. Why?
Rolex used to use the same steel as everyone else, but in around 2003 they moved their entire steel production to 904L steel. In 1988 they released their first 904L steel watch with a few versions of the Sea-Dweller. 904L steel is more rust and corrosion resistant, and is somewhat harder than other steels. Most important to Rolex, is that 904L steel, when worked properly, is able to take (and hold) polishes incredibly well. If you've ever noticed that steel on a Rolex watch looks different than other watches, it is because of 904L steel, and how Rolex has learned to work with it.
A natural question is why doesn't everyone else in the watch industry use 904L steel? A good guess is because it is more expensive and much more complicated to machine. Rolex had to replace most of their steel working machines and tools to deal with 904L steel. It made sense for them because of the amount of watches they produce, and because they make all their parts in-house. Most other brands get their cases made from outside suppliers. So even though 904L steel is better than 316L steel for watches, it is more expensive, requires special tools and skills, and is overall more difficult to work with. This has prevented other brands (so far) from taking advantage of it, and is something special that Rolex has. The benefit is obvious once you handle any steel Rolex watch.
---
2. ROLEX HAS ITS OWN SCIENCE LAB
Given everything Rolex has done over the years it shouldn't come as a surprise that they have an internal Research & Development department. However, Rolex takes it well beyond that. Rolex has not one, but several different types of extremely well-equipped professional science labs at their various facilities. The purpose of these labs isn't just to research new watches and things that may go into watches, but also to research more effective and efficient manufacturing techniques. One way of looking at Rolex is that they are an extremely competent and almost obsessively organized manufacturing company – that just happens to make timepieces.
Rolex labs are as diverse as they are amazing. Perhaps the most visually interesting is the chemistry lab. Full of beakers and tubes that carry liquids and gases, the Rolex chemistry lab is full of highly trained scientists. What is it mostly used for? Well one thing that Rolex stated is that the lab is used for developing and researching oils and lubricants that they use in machines during the manufacturing process.
Rolex has a room with multiple electron microscopes and some gas spectrometers. They are able to take an extremely close look at metals and other materials to investigate the effects of machining and manufacturing techniques. These large areas are extremely impressive and are used seriously on a regular basis to remedy or prevent possible problems.
Of course Rolex also uses its science labs on the watches themselves. An interesting room is the stress test room. Here watch movements, bracelets, and cases undergo simulated wear and abuse on custom-made machines and robots. Let's just say that it would not be unreasonable to assume your typical Rolex is designed to last a lifetime (or two).
---
3. ROLEX MOVEMENTS ARE ALL HAND-ASSEMBLED AND TESTED
One of biggest misconceptions about Rolex is that machines build their watches. The rumor is so pervasive that even people at aBlogtoWatch believed it to be mostly true. This is because traditionally Rolex didn't communicate much on this topic. Well the truth is that Rolex watches are given all the hands-on human attention that you'd like to expect from a fine Swiss made watch.
Rolex uses machines in the process for sure. In fact, Rolex easily has the most sophisticated watch making machinery in the world. The robots and other automated tasks are really used for tasks that humans aren't as good at. These include sorting, filing, cataloging, and very delicate procedures that involve the type of care you want a machine to handle. Most of these machines are still human-operated though. And everything from Rolex movements to bracelets are assembled by hand. A machine however helps with doing things such as applying the right pressure when attaching pins, aligning parts, and pressing down hands. Having said that, all Rolex watch hands are still set by hand via a trained technician.
It would be an understatement to suggest that Rolex is obsessive about quality control. A predominant theme in the manufacture is that things are checked, re-checked, and then checked again. It feels as though their goal is to ensure that if a Rolex watch fails, it does so before it leaves the factory. Large teams of watchmakers and assembly people work on every single movement that Rolex produces. This is before and after their movements are sent to COSC for chronometer certification. And on top of that, Rolex re-tests their movements for accuracy after they are cased for several days while simulating wear before they are sent out to retailers.
---
4. AN IN-HOUSE FOUNDRY MAKES ALL THE GOLD FOR ROLEX WATCHES
Rolex makes their own gold. While they have a small handful of suppliers that send them steel (Rolex still works the steel in-house to make all the parts), all the gold and platinum is made in-house. 24k gold comes into Rolex and it is turned into 18k yellow, white, or Rolex's Everose gold (their non-fading version of 18k rose gold).
Large kilns under hot flames are used to melt and mix the metals which are then turned into cases and bracelets. Because Rolex controls the production and machining of their gold, they are able to strictly ensure not only quality, but the best looking parts. To our knowledge Rolex is the only watch manufacture that makes their own gold or even has a real foundry in-house.
---
5. TECHNOLOGY IS A WATCHMAKER'S BEST FRIEND
The philosophy at Rolex seems to be very pragmatic, if a human does it better, then let a human do it, if a machine does it better, then let a machine do it. In fact the reason more watchmakers don't use machines is two-fold. First of all machines are huge investments and in many instances keeping people around to do it is less expensive. Second, they don't have the production demands that Rolex does. In fact, Rolex is fortunate to have the ability to equip its facilities with robotic help where needed.
The epicenter of Rolex's automation prowess is the master supply room. Massive columns of parts are attended to by robotic servants that store and retrieve trays with parts or complete watches. A watchmaker needing parts must simply place an order with the system, and it is delivered on a series of conveyer systems to them in about 6-8 minutes.
Robotic arms populate the Rolex manufacture locations when it mostly comes to repetitive or highly detailed tasks that require consistency. Many Rolex parts are given an initial machine polish by a robot, but amazingly they are hand-finishing and polished as well. The fact is that while modern technology is a huge part of the "Rolex manufacturing machine," robotic equipment is there to assist what is a very real, human watch making operation.
6. FORT KNOX HAS NOTHING ON ROLEX
It isn't surprising that Rolex is keen on security. At their foundry for example, I was given a bar to carry around that weighed in at just over $1,000,000 worth of Everose gold. There is a lot more of that, as well as valuable completed watches that need safekeeping. Rolex employs a series of extremely meticulous security checks and they had a James Bond-style safe that is located a few floors underground.
I noticed that rank and file watch assembly employees have an interesting system on their desks that required their ID badge be docked at all times after being identified with a fingerprint scan. Everything is scanned and cataloged. In fact, each Rolex watch movement has a unique serial number that is photographed and matched with a case that also has a different unique serial number. In the future when the watch is serviced, a watchmaker can learn everything there is to know about it.
Accessing the Rolex safe requires entering a bank vault door and passing an iris scanner that identifies you via your eyes. When Rolex parts move from location to location, they are transported in highly discreet unmarked (and likely heavily armored) trucks. Rolex is very serious about their safety, and for a really good reason since it is often said (in truth) that Rolex watches are just as good as money.
---
7. ROLEX DIVE WATCHES ARE INDIVIDUALLY TESTED IN PRESSURIZED TANKS WITH WATER
All Rolex Oyster case watches are thoroughly tested for water resistance. The way that this is often done at watch manufactures is with an air-pressure tank. A watch is placed in a small chamber that is filled with air, and if the pressure changes at all, it means that air leaked into the case. Each Rolex Oyster, as well as Oyster dive watches begins with this air pressure treatment. In fact, each case is tested both before and after a movement and dial are placed inside of it.
Dive watches receive a separate treatment all together. After being air pressure tested, Rolex proceeds to test the water resistance of each and every Rolex Submariner and Deep Sea watch in actual water. This type of test is much less common. Submariner watches are placed in large tubes that are filled with water to ensure that they are water resistant to 300 meters. The test is extremely complex because Rolex employs a complex system for testing if water entered the case.
After the watches exit the tank, they are heated up and a drop of cold water is placed on the crystal to see if condensation forms. An optical sensor then scans them for trace amounts of water. Less than one in a thousand watches fail the test. The story is much more intense for Deep-Sea watches. Rolex co-developed a special high-pressure water tank with COMEX to depth test each Deep-Sea watch. The pressure tank looks like something from a science fiction movie. Imagine something that looks like a several ton Gatling gun. This machine takes well over an hour and measures each watch to a pressure equivalent to 12,000 meters deep.
---
8. AN ARMY OF GEMOLOGISTS WORK AT ROLEX
It has been said that Rolex has preposterous standards for the materials it buys from its suppliers. This includes things like metals as well as precious stones such as diamonds, rubies, and emeralds. Rolex has a massive gemological department whose goal it is to buy, test, arrange, and set diamonds and other precious stones in a range of Rolex models. One of the things they do is check incoming stones to ensure that they are real. Using x-rays for example, they can test diamonds to ensure they aren't fake.
Rolex reports that in the years they have been testing diamonds, only two in 20 million have been fake. That might seem like such a small amount it isn't even worth their time to perform the test. Nevertheless, to ensure absolute quality, Rolex tests each batch of diamonds. This should also have an illustrative effect on the diamonds they use, which happen to only be IF in clarity, and D-G in color (the four grades closest to white).
Each and every diamond or precious stone (no matter how large or small) on a Rolex watch is hand-selected and hand-set. Rolex employs traditional jewelers to create custom settings for stones in their most exclusive watches, done using the same processes employed in creating the world's finest jewelry. It was amazing to see this level of artisanship and delicate care inside what many people believe to be a mass producer.
---
9. IT TAKES ABOUT A YEAR TO MAKE ONE ROLEX WATCH
An advertisement for Rolex long ago claimed that it takes about a year to make a single Rolex watch. As suspicious as that sounds, it is true even today. Rolex produces almost a million watches a year, but surprisingly, no shortcuts are taken in the manufacturing process from what I could observe (and I've been to a lot of watch manufactures). Rolex is however interested in quality and efficiency. Basically, the entire company seems focused on producing the best watches, and continually seeing how they can make them better.
If you look at Rolex watches over time, they are more about evolution rather than revolution. This idea of always improving versus changing goes right into their manufacturing process as well. They are constantly learning how to improve quality through better processes and techniques. The move from aluminum to ceramic bezel inserts is a perfect example. Nevertheless, from starting to shape the parts of the case to testing a completed watch for accuracy, the process takes around one year.
Of course Rolex could speed this up for certain models if necessary, but each watch requires so many parts and virtually everything is made from base materials in-house. Once all the parts for a Rolex watch are completed, they are then mostly hand-assembled and individually tested. The testing and quality assurance process is rather intense.
A good example is how Rolex makes each of their watch dials. All of the dials are made in-house, and one of the most impressive facts is that all of the applied hour markers are set individually by hand. Often times at other brands, machines perform this process, but Rolex learned that a human eye is better trained to spot problems. So individual hour markers are applied and riveted by hand. Dials are dropped from 20cm up in the air to ensure that none of the hour markers fall out. This is a careful and time-consuming process, and it is among the many elements of making watches at Rolex that is done by a skilled human being. Taken together, because of Rolex's rather fanatical dedication to quality across their huge production, watches take, on average, about a year to produce.
---
10. ROLEX MAKES VIRTUALLY EVERYTHING IN-HOUSE
After having said all of the above, it probably doesn't come as a big surprise that Rolex makes virtually everything in-house as a totally vertically integrated manufacturer. As of right now, the only major parts that Rolex doesn't make for all of their watches are the synthetic sapphire crystals and many of the dial hands (though I have a feeling the latter will change in the next several years). Rolex produces their own gold, cases, bracelets, dials, bezels, and movements in-house with incredible efficiency and quality.
It isn't just that Rolex can afford all the most useful machines, but also that Rolex invests into processes and techniques that are tightly-held trade secrets. The real value inside the Rolex factory are their tools and know-how, which no one could replicate even if they had a copy of their facilities.
Making everything in-house allows Rolex to be truly independent. Watch collectors often agree that there is the watch industry and then there is Rolex – the two just happen to make similar products. It is hard to love watches and not appreciate what Rolex is and what they produce. Traveling there I can fully understand why they aren't only the most successful high-end watch manufacture, but why they are also one of the most successful luxury brands in the world.
If I had to say one last thing about Rolex, it is that even if you personally don't like how their products look on your wrist (which puts you in a minority or people if, after a few years, you don't appreciate at least some models), you simply can't deny the absolute sense of confidence, reliability, and dignity the brand name communicates.